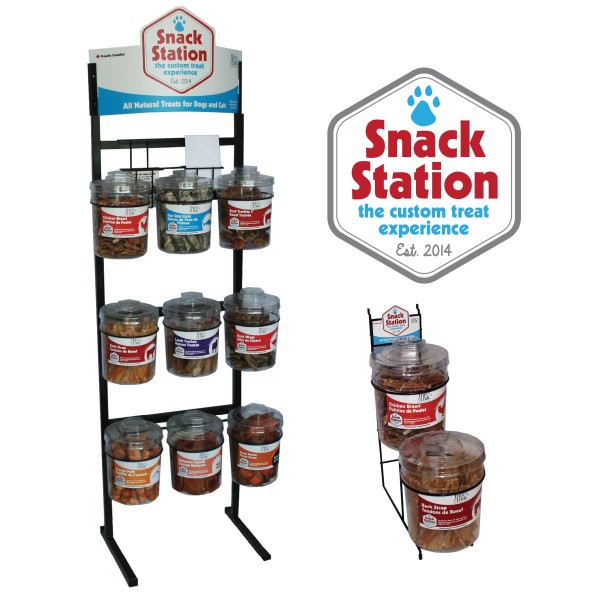 Snack Station
For many, one of childhood's great memories is that of visiting the candy store and filling your bag with an assortment of exciting flavours. Well why not give your dog the same experience, but with a healthy twist? We have introduced a diverse assortment of exciting, flavourful and nutritious treats and chews that allow you to mix and match while exploring new flavours for your pet to enjoy!  Each treat offers different nutritional advantages, and is the perfect compliment to any diet.
Our Snack Station Treats are:
Sealed to ensure peak freshness and prevent contamination.
Clear apothecary-style containers showcase that we use only the highest quality, human-grade, federally inspected proteins.
Our treats and chews are 100% free of any bi-product, artificial flavours or additives.
With 22 different varieties to chose from, there are delicious options for any specific dietary needs.
22 Varieties to choose from:
New Apple Oatmeal Sweet Potato: Building on the unprecedented success of our naturally chewy Original and Blueberry flavored sweet potato, we are introducing our Apple Oatmeal flavor. Manufactured in the only SQF Level Three certified facility in Canada. Our sweet potato is a certified human-grade product made on the very same equipment licensed for human consumables. Available in Canada Only.
New Cranberry Turkey Tips (*LIMITED EDITION*): Bound to become a seasonal classic, our delicious slow dehydrated Turkey Tips are coated in a highly nutritious dried cranberry grown in Ontario, Canada. Cranberry is a rich anti-oxidant great for urinary tract health. Turkey Tips are a great source of calcium, potassium, Glucosamine and Chondroitin.
New Honey Garlic Duck Feet: We have taken one of our most popular bulk items and turned it on it's ear! Basted in a delicious honey garlic glaze and slow dehydrated for a rich colour and flavor, our duck feet are sure to entice even the pickiest of eaters. Honey has natural antiseptic properties and is considered a heart tonic for dogs. Garlic is good for the blood and a natural bug repellent.
New Sweet Potato – Maple Bacon Sticks: We can't help it if we're Canadian eh! In good conscience we couldn't have bacon with out maple! Our richly flavored sticks are
bursting with flavor. They are a low fat, and deeply delicious chew that is perfect
as an after dinner chew to settle the stomach.
New Pumpkin Spice Turkey Sticks: We've taken all the best flavors of the holidays and rolled it into a delicious stick that is perfect for any time of year! When you think gut
health, there is nothing quite as familiar as Pumpkin. These low fat chews are ideal
for any dogs with sensitive tummies!
New Catnip Fish Bites: What cat can resist fish and Catnip combined?! Our hand made, cold water, Nova Scotia Haddock fish bites are coated in the most universally loved ingredient to tempt our feline companions.
New Catnip Chicken Bites: We covered the land and the sea with our innovative and unique catnip coated treats! Bring variety into your cat's life with the lean and delicious flavor of our restaurant quality, Ontario raised Chicken.
Chicken Breast: 100% white meat.  A low fat, low calorie treat that is rich in flavour. Breaks apart easily.  Suitable for dogs and cats
Chicken Feet: Don't let the looks fool you!  These chews offer a crunchy and flavourful chew that is brimming in goodness.  Great source of calcium, potassium, Glucosamine and Chondroitin. Available in Canada Only.
Duck Breast:   Cats and dogs love this rich and nutritious muscle meat.  Breaks easily into small pieces. Perfect for training.
Duck Feet: A highly stimulating, crunchy, instinctual chew packed with nutrients like, calcium, magnesium, glucosamine and chondroitin. As it breaks down it works to clean teeth.
Duck Wings: Let your pup crunch away and absorb the rich flavour of duck while ingesting a dense source of calcium, potassium, Glucosamine and Chondroitin.
Duck Necks: Rich, flavourful, and crunchy – Duck necks break down easily for a nutritious and enjoyable chew.
Beef Back Strap: The tendon that runs along the back of the neck.  The back strap is a perfect, long lasting, mess-free, stink-free chew for dogs of all ages.
Beef Trachea 3": A smaller crunchy, stimulating chew that is rich in Glucosamine and Chondroitin.  Ideal for smaller dogs of all ages
Beef Trachea 6": For the bigger dogs, a stimulating chew that is rich in Glucosamine and Chondroitin.  Ideal as a crunchy distraction with chew.
Lamb Trachea: Ideal for dogs that have sensitivities to beef, this crunchy and stimulating chew is high in Glucosamine and Chondroitin. Available in Canada Only.
Lamb Ears: Our hairless product is a great alternative to pig's ears, lamb ears are an enjoyable chew that are easy on the stomach.  Good for dogs of all ages. Available in Canada Only.
Fish Skin Sticks:  For lovers of the sea, these hand-rolled Haddock sticks from Nova Scotia are equally rich in omega fatty acids and flavour. Watch the hyper-focus and enjoyment as your dog or cat frantically try and unroll the flavour!
Sweet Potato A chewy, teeth cleaning, high fibre, and high nutrient treat that is ideal for dogs with severe allergies or upset tummy.  Rich in; beta-Carotene, Vitamin A, Potassium, Phosphorus, Iron, Niacin, Thiamin, and Riboflavin
Comes in three delicious flavours: Original, Apple Oatmeal, and Blueberry Parsley.  Our flavoured sweet potato is a coated in a fruit juice concentrate to provide an intense, and nutritious experience for dogs.
Everest Cheese Puffs: The crunch you hear as you pup gobbles up this delicious chew tells it all!  We have taken everyone's favourite Cheese Chew (The Everest Chew) and puffed it for a crunchy, intensely pleasurable treat that is ideal for any dog with allergies or sensitivities.  Bet your pup can't just have one!