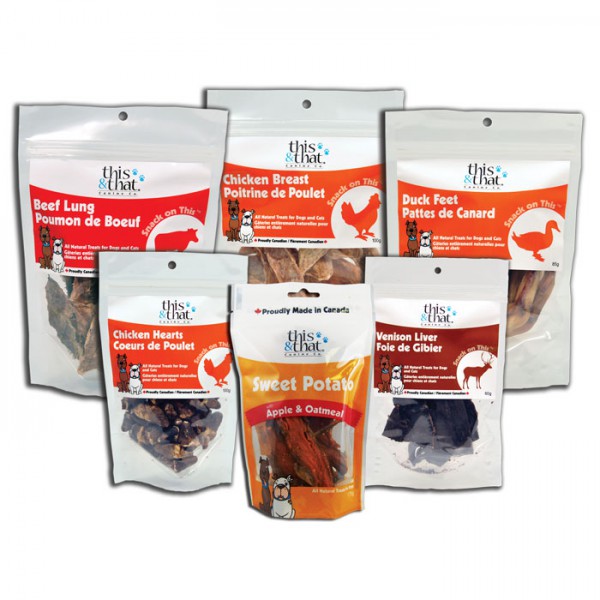 Dehydrated Pouches
Since when did eating the same ingredients day in, day out constitute the path to optimal health?  Would you want to eat the same thing for breakfast, lunch and dinner?
We believe that diversity is the key when deciding what ingredients to put into our beloved family member's body.  This is why we have launched our line of highest quality, Canadian-sourced, human-grade treats to best balance the nutritional intake of you dog or cat.
100% Natural – free of any hard to digest additives or bi-products.
Packed with essential, health-boosting nutrients.
As nature intended! Easy to digest and assimilate into your pets' system.
Perfect for dogs and cats.
Chicken Breast (175g, 375g) 100% white meat.  A low fat, low calorie treat that is rich in flavour. Breaks apart easily.  Suitable for dogs and cats.
Chicken Hearts (100g) Low fat, crunchy, and nutrient dense treat.  A high source of protein and amino acids – specifically taurine (which is required by, but not produced by cats).  Great for dogs and cats.  Ideal to pop in your pocket for long walks.
Beef Lung (100g, 300g) A cleaner alternative to liver (which acts as the filter of the body).  Beef lung offers all the great taste of liver without the unwanted, and unhealthy contaminants.  Easy to break into small pieces. A great training treat.
Duck Feet (200g, 400g) A highly stimulating, crunchy, instinctual chew packed with nutrients like, calcium, magnesium, glucosamine and chondroitin. As it breaks down it works to clean teeth.
Venison Liver (150g) A rich, low allergen, and antibiotic and hormone free protein, Venison liver is ideal for dogs and cats with food sensitivities and allergies.
Sweet Potato (175g, 375g) A chewy, teeth cleaning, high fibre, high nutrient treat that is ideal for dogs with severe food allergies or a bad tummy.  Rich in; beta-Carotene, Vitamin A, Potassium, Phosphorus, Iron, Niacin, Thiamin, and Riboflavin
Comes in three delicious flavours: Original, Apple Oatmeal, and Blueberry Parsley.  Our flavoured sweet potato are coated in a fruit juice concentrate to provide an intense, and nutritious experience for dogs.